Just 4 Fun Collection of Fun Enamel Pins and Fun Notes!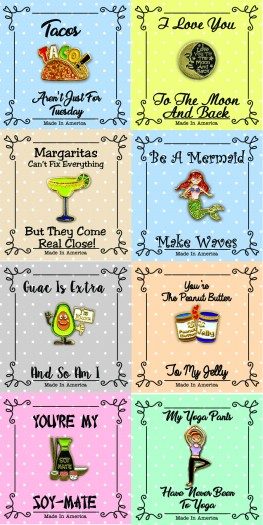 Our Just 4 Fun Collection of Fun Enamel Pins and Fun Notes are very current ways to express a special message.  Whether you need to send a note to a friend or show your appreciation to a family member this collection will do the job. Everyone will recognize the meanings on these cards and will bring a smile or a tear. Each pin which is American Made was designed to match the special card that has a printed "To" and "From" on the back making it a perfect gift.  Look through this collection of 48 styles and you will find many choices for that special person in your life.  From Ice Cream lovers to Mermaid collectors, Cat lovers and Dogs too, its all there. Whether you need an inexpensive something for a child, senior or millennium this funny and oh so cute collection will sure to please.
Sometimes it is easier and more special to get a message on a card from someone you know. Especially if that message also comes with a Hand Painted Enamel finished pin that reflects the meaning of the card.  In fact you give two gifts with one purchase, a special message and a keepsake pin.  Our Just 4 Fun Collection of Fun Enamel Pins and Fun Notes lets your special someone remember your kind thought every time they see their pin.
Showing 1–24 of 48 results
6508 Tacos Pin

$

7.99

Tacos Aren't Just For Tuesday

Our Tacos pin makes a great gift for that special someone that is a lover of Tacos and Mexican Food. This pin makes a great addition to any outfit, backpack, hat, pocket book, tablet case, notebook or jacket.  Accented with assorted color enamel epoxy letters spelling Tacos makes our pins look good enough to eat!  These pins are fun and colorful ways to show the world that Tacos aren't Just For Tuesday!. For that reason,  our Tacos Pin will always bring a smile to someone special or just a treat for yourself.