Train Angel
$5.99
Quantity Discounts (Discount will appear in Cart)
1-5

6-10

11-20

21-30

31-50

51+

$

5.99

$

5.69

$

5.39

$

5.09

$

4.79

$

4.49
Our cute Train Angel pin makes a great companion for anyone traveling by train either for work or for pleasure. Traveling by train is usually a very relaxing experience where you can catch up on your reading, watch the scenery go by or just take a nice nap. Either way, it's a comfortable ride and by the time you get to your destination you're usually refreshed and your energy is high. Our Train Angel is there to help get the travelers to their destination safely and it brings a sense of ease to the situation knowing that you have the angels on your side protecting you and keeping you out of harms way.Pin Size: .81″W X .81″H    Card Size: 2″W X 3.5″H
Train Angel
Our cute Train Angel pin makes a great companion for anyone traveling by train either for work or for pleasure. Traveling by train is usually a very relaxing experience where you can catch up on your reading, watch the scenery go by or just take a nice nap. Either way, it's a comfortable ride and by the time you get to your destination you're usually refreshed and your energy is high. Our Train Angel is there to help get the travelers to their destination safely and it brings a sense of ease to the situation knowing that you have the angels on your side protecting you and keeping you out of harms way.
Our Train pin features a choo-choo train which is layered in a 14Kt gold finish with hand painted epoxy accents. Each pin comes on a colorful greeting card that can be used as a gift card which has a thought provoking verse with a "To and From" on the back giving the ability to sign and address this special gift for that special someone.
Verse
TRAIN ANGEL
Everyone who has heard that wonderful
locomotive whistle, whether it be a sad
farewell or just a friendly wakeup call, surely
knows it is much more than iron & steel,
but a living, breathing thing with stories to
tell – a dream that leapt to life from a vision,
brought to reality by sheer brawn and raw
courage and this "Thoughtful" little train
angel is a reminder of all the trains that
traveled through history to unite a nation,
and are now just faded bits of nostalgia
caught in our memories.
Help support America, buy an American made product, and support the small U.S. manufacturer in their constant fight against low priced imports and low quality goods. We offer a lifetime guarantee on all our products to you, the consumer. If for any reason your product fails, we will replace it free for life, just pay shipping charges.
Proudly Made In USA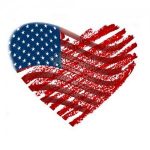 Thoughtful Little Angels
Genuine Swarovski Crystals
Perfect Gift for All Occasions
Volume Discount on All Products